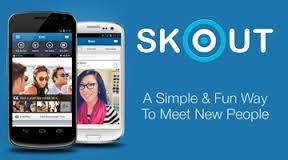 If someone blocks you on Skout you will no longer see them in your contacts/message list and will be unable to message them. In turn they can no longer see you either but they would be able to unblock you if they change their mind in the future.
Unless you are in touch with the person through another method, I don't think there is any way to reach out to them to ask the reason or get them to reconsider unfortunately.
It may well be that you have done nothing wrong, just that the contact has a reason for ending communication. If you had violated the rules of Skout the user would have reported you and I think I am right in saying your account could then be blocked.