The image you upload as your Facebook profile picture needs to be at least 180px by 180px. It is displayed at 160px by 160px. There will also be a thin white border which is automatically added and there is no way to remove this.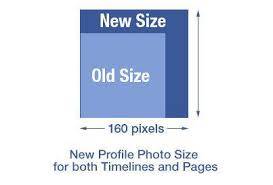 If the photo that you choose to use is not square you will be able to crop it and will be able to choose how it is cropped. However, if you find that the image is then blurred, it would be worth trying an image twice the recommended size (320 x 320) which will hopefully give a clearer and sharper image result.
I have to say that I have never really considered size when I upload a new Facebook profile picture, I generally just use the crop option if the images aren't the right size. That said, images will obviously be better if you stick to the recommended sizes above.
More than anything else, you should consider exactly which how to to use as your Facebook profile photo, I know it's something that I always struggle to decide on.