Yes, Yahoo web hosting does support Joomla, although unless you have experience using Joomla it can be quite tricky to use.  You should also note that Yahoo don't provide any customer support for Joomla, so you're on your own!  Here's a quick guide on how to get started with it:
Download the Joomla installer.
Open the downloaded file and save contents to a new folder named "Joomla".
Upload the Joomla folder to your hosting account via FTP.

Start the Joomla installer by going to http://yourdomain.com/joomla.
Follow the instructions to complete the installation.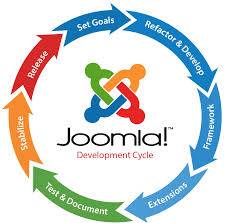 So there we go.  Yahoo does not provide customer support for Joomla, but they do support the use of it.  If you're not comfortable setting it up yourself, you might be better looking for a web hosting package that provide customer support for Joomla instead.
If you are comfortable installing it, then I don't see why you'd have any issue with a Yahoo web hosting package.