The only way to view private profiles on Gifyo is to follow the user, and hope they follow you back.
But as one wise user pointed out, if you set your profile to private on a SOCIAL network like Gifyo, then you're kind of missing the point....
Also, unless you're really cute, a private profile will not get any followers.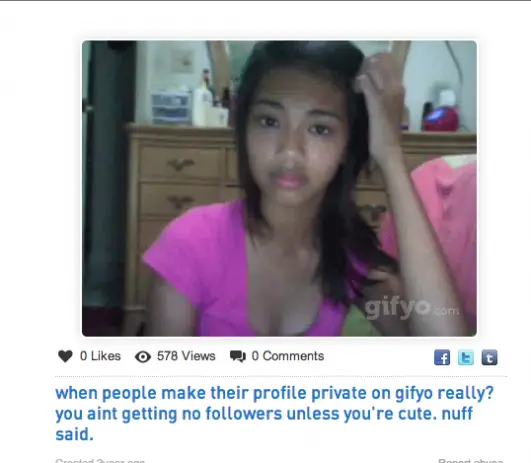 Why people should never be able to see private profiles on Gifyo
While you might think that seeing private profiles on Gifyo might be a good thing, here's a little story which will show why IT IS NOT!!
A few months back, my cousin found my Gifyo profile and noticed a few pervy comments I wrote on there.
She told my mom about it which was mega awkward, and she also shared some of my GIFs on Facebook and tagged some of my other cousins in the post so they would see it.
It was very embarrassing, and I had to make my Gifyo profile private and delete all my family off my Facebook.
So the moral of the story is: If someone sets their Gifyo profile private, there's probably a good reason for it! Just let them be...
Also, there's plenty of other stuff to do on Gifyo like this video about Gifyo will show you.
If you use Gifyo, you will relate to this video 100%