Hey darling. It's not too hard! However you will need to have the program 'Microsoft Word' on your computer to do this. Open up word. Click at the top of the screen, the 'file' drop down menu. Click 'Save as' and then select from another drop down menu titled 'Format' at the bottom of the box that appears :

Open it and select out of the 'Common Format' selection 'PDF'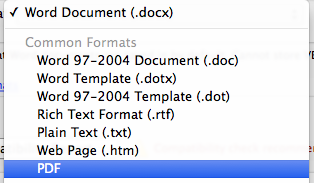 Now click 'Save' in the bottom right hand corner of the box. It should present a saving screen and then it's done! You should find the file wherever you decided to save it. Hope I could help!