I've had a look at your site (contestgeneral.com) and given you some feedback below. I hope it helps!
SPORT SELECTION
I like the fact that there are multiple sports available to choose.
An improvement I suggest is to expand out of NFL, and into international sports. This will increase traffic to your website as it makes the content more relevant to the international community.
There are only three sports I could see on contestgeneral.com (baseball, basketball and football), so expanding out into other popular sports (ice hockey, soccer, tennis, golf etc.) would help broaden the users' experience.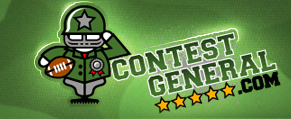 LOGIN and SIGN-UP
The login doesn't make me feel secure, so SSL protection would be worth looking in to. Users want to make sure their data is protected and not sold on to 3rd party companies. SSL is a good idea.
THEME or TEMPLATE
The theme doesn't look professional, which makes me feel concerned when using it. I would go for an HTML5 Wordpress theme, or something comparative to those huge corporations who do this kind of thing.
Overall, I think this is a good pool site for office use in US, but expanding it out into other countries would be a good idea.
I found this video, which gives a very similar reviews. Combining the information from my answer and this video, there should be enough to start making changes on your website.