When you say 'printed' cards, I don't know if you mean commercially available, shop bought ones, or the ones you print off at home on your computer. Either way the answer is yes, they can definitely show their magic!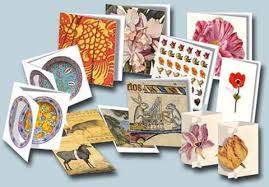 Shop bought cards can be chosen for the wording inside. Most of us aren't capable of coming up with sentiments as good as that. In fact, often, they can express our feelings so well that it feels they have been made especially for us.
A lot of my friends and family will highlight certain words inside that mean the most to us and express what we want to say to the recipient. Sometimes we underline words, alternatively we put words in quotation marks.
I also used to have a computer program that allowed me to make personalised cards and print them myself. These were always well received as it was obvious I had made some effort and thought of the person while I designed the card.
Today I tend to use an online card website that personalises cards for me. I can change many things on the card such as name, greeting, add my own message. I can also add a photograph, both to the outside, and also to the inside, so it is a very personal greetings card.